HOW CAN THE MOTION OF THE SEA
BE A DIRECT
SOURCE
FOR AN EVER-CHANGING
WEAVING PATTERN?
THE SEA AS DATA SOURCE



Kadans 2.0 is a research project by Dutch designers Aliki van der Kruijs and Jos Klarenbeek. It examines how the motion of the sea can be a direct source for an ever-changing weaving pattern.
The ongoing project sprouts from a shared curiosity for invisible natural processes and using these as a source of information for the development of patterns and materials. Textile production is combined with sciences including oceanography and mathematics, constructing a soft output of hard data generated by the motions of waves at sea.

The Dutch government, through its

Rijkswaterstaat

, uses offshore buoys and platforms to monitor the wind, wave and acidity conditions along the coastline of the Netherlands. This real time information is open source accessible, and is a direct data input for Kadans 2.0. Together with

RNDR

a weaving software is developed for both shaft and jacquard weaving. This tool enables the translation of sea data into a weaving pattern. In this way each part of a resulting piece is directly linked to a moment in time, making each roll of fabric a unique timeline.

Kadans 2.0 was developed alongside a team of oceanographers from TU Delft and interactive media firm RNDR. Sampling on a jacquard loom was made possible by participating in Weavers Werkstatt, a residency organised by Hella Jongerius' Jongeriuslab and further developed in the TextielLab / Textielmuseum in Tilburg.
WEAVING WATER


Kadans 2.0 is a sample research in both shaft and jacquard weaving. To translate the data of Rijkswaterstaat into a set of tangible features, Aliki and Jos designed nearly a dozen patterns that explore how this data can generate ever-changing textiles. By weaving in shafts, they are forced to think in a more geometric representation, as if the fabric were a large graph. Jacquard, in turn, allows them to represent the irregularity of ocean patterns.

The first samples were handwoven on a sampler shaft loom with 24 shafts. Afterwards, they experimented on an industrial dobby loom at Lanificio Leo, a textile manufacturer that has been operating in Calabria (Italy) since 1873. During the Weavers Werkstatt they could work on a jacquard TC2 loom. That process enabled them to experiment directly with the yarns and receive immediate feedback on how the data informs the weave code. The high-speed weaving and spin possibilities at TextielLab in Tilburg allowed for the samples that were born out of the TC2 loom to become far more precise.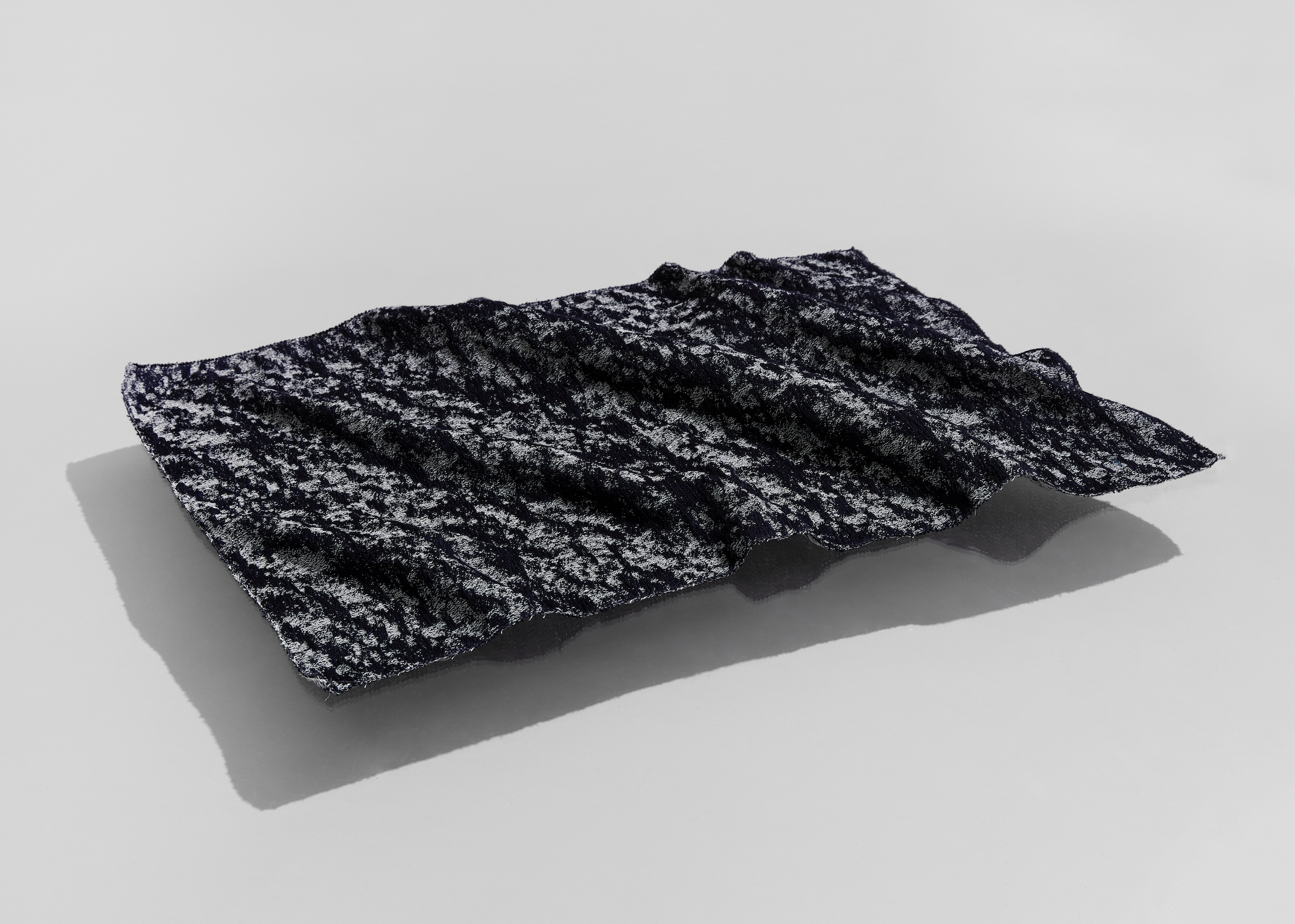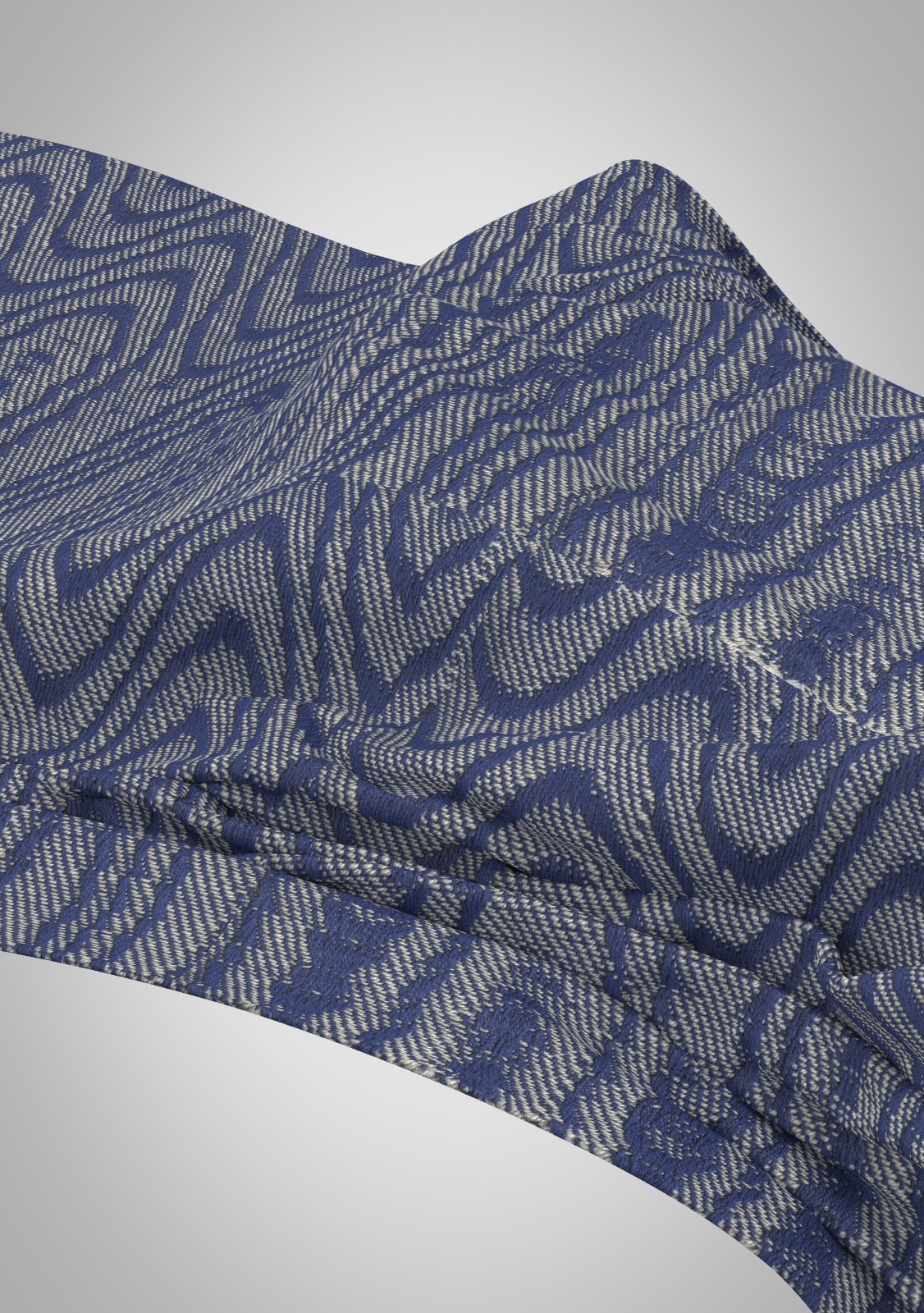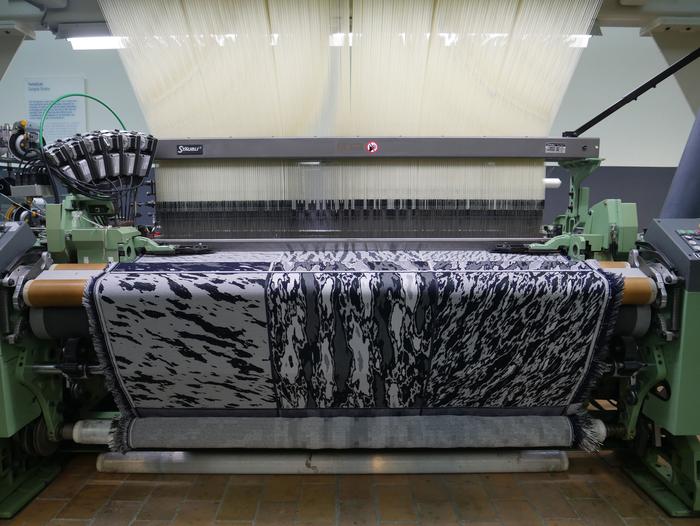 THE SOFTWARE

In order to automate the process of translating open source data of Rijkswaterstaat into weavebindings, two softwares are developed together with RNDR. The key to the custom Weaver software is its mapping function, a proprietary design: it's a mechanism that has a set of values —open-source buoy data collected by an algorithm— as input and weaving code as output. Once sent to the chosen loom, this results in fabric with a defined look, yet with ever-changing nuances determined by sea behaviour. The first version, Weaver1, was developed for shaft weaving —and will be violable as open-source software in the future. Its follow-up, Weaver2, was conceived for jacquard weaving.

The mapping works differently for each of the 10 programmed designs, giving each piece of fabric its own visual and tactile identity. The jacquard weaving is produced via the same algorithm that oceanographers use to create 3D models of the sea. But the Weaver2 software takes that a step further: with merely a few parameters from a buoy —wave height, mean wave period and mean wave direction—, it translates the height values of that model into certain bindings, creating a jacquard pattern with a top-down view. In other words: it resembles the way a satellite sees water on Earth.

Weaver1
Weaver2